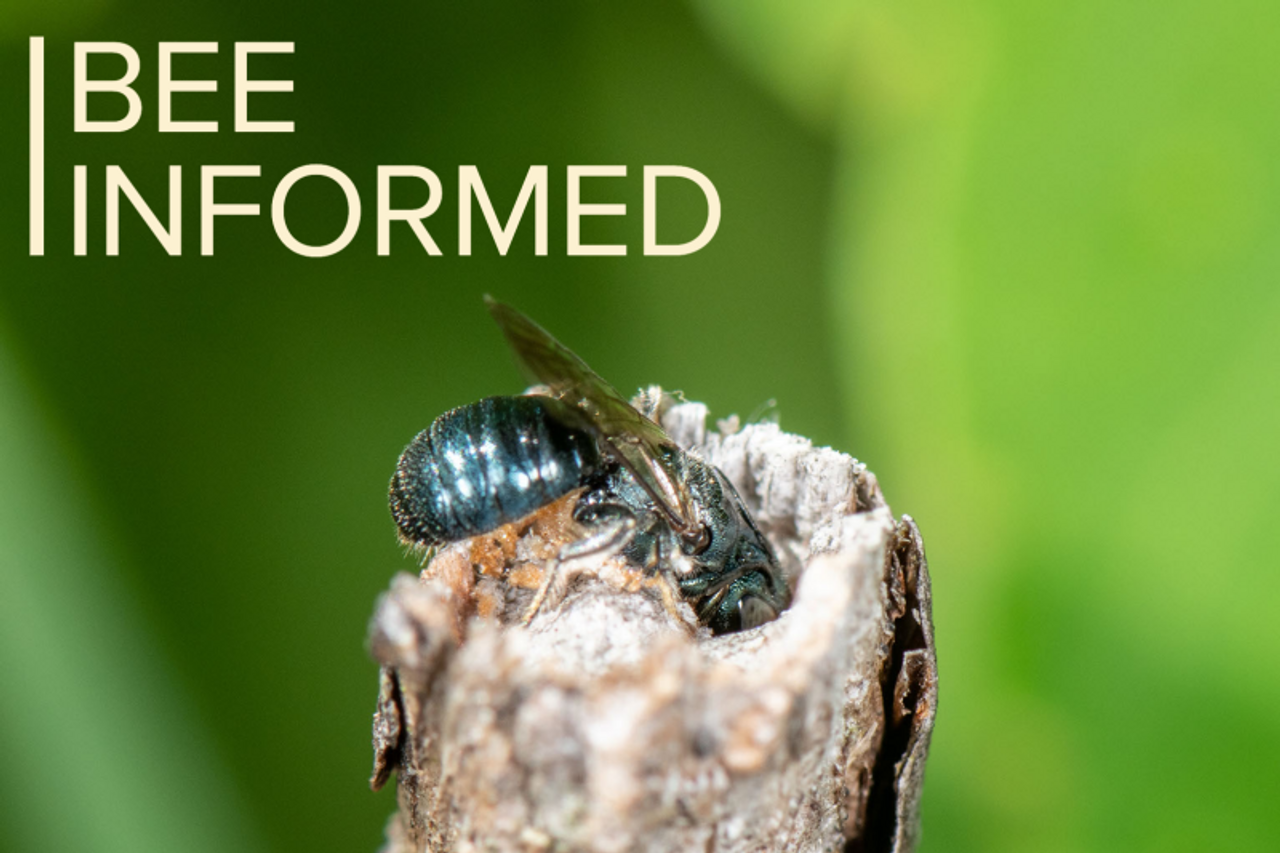 Each month our Bee Informed Blog highlights current news, science, and research related to solitary bee conservation, food insecurity, and sustainability.
(County News) A native bee which nests in tree-fern fronds is helping scientists understand how life developed to be social and altruistic — and how bees evolved to purposefully hatch sterile young, a fact which defies Darwin's natural selection theory.
The Australian bee Amphylaeus morosus only recently made the jump from being a solitary species to a social one — which made them a perfect, and rare, animal to put under the metaphorical microscope.
The bee's social nests are tiny and rarely contain more than two females, and the females do not use the queen-worker roles seen in other highly social species such as the European honey bee. Continue reading...
Researcher Lucas Hearn and field volunteer Tyla Cousins collect Amphylaeus morosus nests from the Dandenong Ranges. Photo by Georgia Macaulay
(Reuters) Legislators don't "hide elephants in mouseholes," the late Justice Antonin Scalia wrote. But what about bumble bees in fish?
Scalia's point – that courts need clear evidence of legislative intent before greenlighting shifts in regulatory policy – strikes me as spot on in a real-life animal kingdom dispute.
On Tuesday, an appeals court in California earnestly held that bees are fish. Or at least for regulatory purposes under the state's endangered species law. Continue reading...
(The New York Times) There are any number of ecologically friendly alternatives to that lawn you're so proud of — and they look nice, too. Here's how to start slowly. Continue reading...
(PetalPixel) The BigPicture Natural World Photography Competition 2022, which highlights Earth's biodiversity and illustrates the many threats that the planet faces, has unveiled its winners and finalists.
The Grand Prize, as shown below, went to Karine Aigner for her photo entitled "Bee Balling," an up-close shot of cactus bees swarming together in a mating ball. The picture, taken in Texas, is unusual because cactus bees are solitary, but nest in near proximity to each other for mating purposes. Continue reading...
---
To stay up-to-date on bee-raising tips and reminders, events, pollinator research, and sustainability insights, sign up for our monthly BeeMail newsletter and follow us on social media!