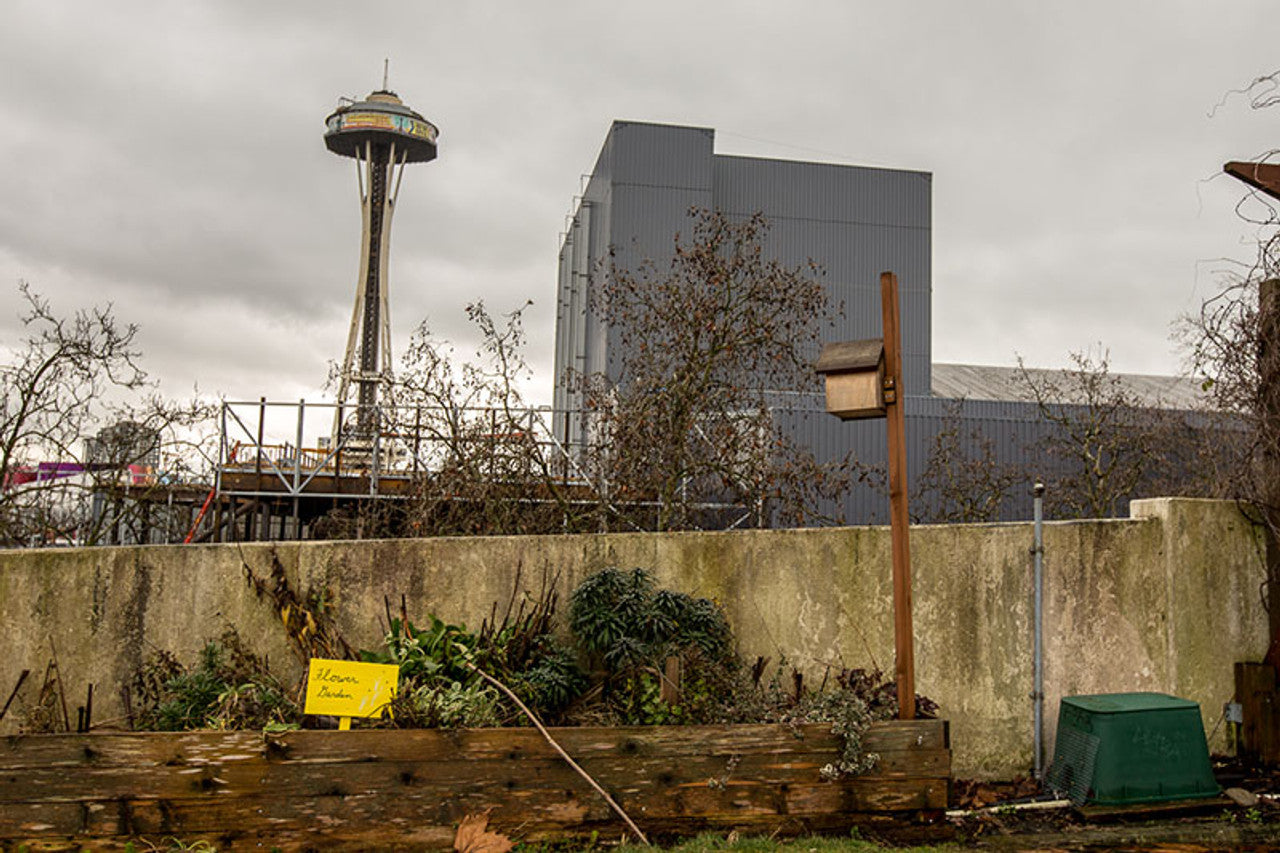 As a new Crown Bees employee, one of the first organizations I connected with was the Seattle Department of Neighborhoods, which oversees the P-Patch Community Garden Program.
As part of a group project in college, I learned that P-Patch community gardens provide a vital space to grow culturally significant food not easily found in grocery aisles. I wanted the P-Patch gardens to be aware that they qualify for our Community Garden program which provides public and educational gardens with the pollination they need while teaching the public about our native hole-nesting bees.
Bonnie Hedman has been the lead gardener at the UpGarden, a P-Patch community garden at the top of the Mercer St parking garage at the Seattle Center.
She was interested in our solitary bees right away and I was intrigued by the garden's unique location and history. I am still a country mouse at heart and I was enchanted with a downtown garden so close to the Space Needle.
Being a rooftop garden means that UpGarden needs to work hard at attracting pollinators. Plants are selected to provide flowers year-round and herbs like rosemary are allowed to flower. The UpGarden attracts bumblebees and is home to a resident hummingbird (its favorite perch is on top of the apple tree growing in the Ford Galaxy planter).
Bumblebees, hummingbirds and honey bees are pollinators that fly long-distance while they forage.
The UpGarden includes a dedicated and protected location for honey bee hives but they lost two hives the winter before I reached out to them. Our spring mason bees and summer leafcutter bees are two pollinators that only fly about 300 feet from their bee house each day. Adding bees with short flying ranges helps the garden ensure pollination throughout the year.
Myra is another UpGarden leader who took on the duty of caring for our program's bee houses and I answered questions about raising mason bees and leafcutter bees.
Rooftop gardens also face the challenges of a hotter and drier microclimate than other local gardens. We learned quickly that keeping the mason bee's clayey mud mix moist would be an issue. Luckily for us, Dave Hunter developed a Mason Bee Mud Box to keep clay mud wet in arid locations.
Bonnie volunteers to teach children of all ages about gardening and teaching the children about our native mason bees was an excellent fit.
Bonnie asked for empty mason bee cocoons for children to touch and they make a great little take-home gift (even if they do get dropped a few minutes later). Mason bees and leafcutter bees are solitary bees that are gentle and perfect for raising with children's help.
Bonnie and Myra are two wonderful kind-hearted women on a mission to grow food and share it.
Every year, the garden donates 1,000 lbs of grown food through the P-Patch Giving Garden program. Myra has sent me home with hens and chicks, pansies, and red onion bulbs and starts to share with my children. The poor spring weather of 2017 meant that the UpGarden's fall mason bee cocoon harvest was low. I happily shared mason bee cocoons from bees that I raised in my backyard last year.
The UpGarden is free and open to the public. There are two lawns that are perfect for a picnic. Visit the garden and consider making a donation to help this unique garden thrive.
---
To stay up-to-date on bee-raising tips and reminders, events, pollinator research, and sustainability insights, sign up for our monthly BeeMail newsletter and follow us on social media!