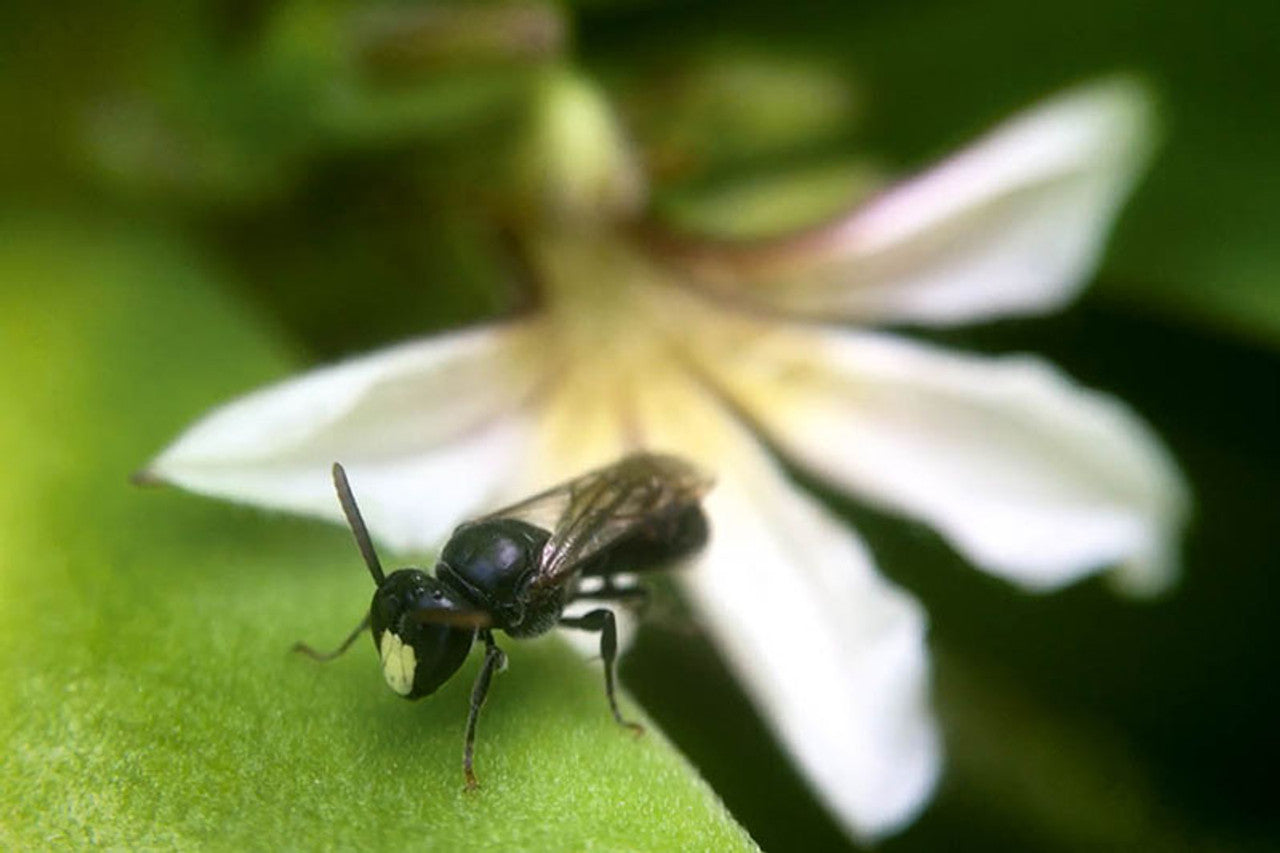 Dr. Jason Graham is the lead researcher developing conservation for the endangered Hawaiian yellow-faced bees in the Plant and Environmental Protection Sciences Department at the University of Hawaii at Mānoa. Seven species of Hawaii's yellow-faced bees were placed on the endangered species list in October 2016, these are the first species of bees to be protected and labeled as endangered.
Dr. Graham has designed and is testing an artificial nest system that has helped him to study the ecology, development and nest architecture of the Hawaiian yellow-faced bees. Collaborating with State and Federal agencies as well as local community and school groups, Dr. Graham is working to protect and enhance the habitat which the Hawaiian yellow-faced bees depend upon for food and nesting resources. He has presented his bee research at the Pollinator Symposium at the Smithsonian Museum in Washington DC, has led 'Pollinators in Paradise' field trips for the IUCN Conference in Honolulu, and his work has been featured by National Geographic.
Over the past two years, Jason has identified and described the nest architecture of an endangered yellow-faced bee: Hylaeus anthracinus. The information gained from that study allowed him to design artificial nests that were similar enough to natural nests that they were successfully used by the bees. He then tested ant exclusion from these nests to determine how big a threat invading ants are to the yellow-faced bee populations and how practical it is to exclude them from the nests. Dr. Graham and his colleagues are now analyzing those data and hope to report the results soon.
Dr. Graham is currently working to optimize the artificial nests, and testing additional conservation methods for the known populations of coastal yellow-faced bees on Oahu. Crown Bees donated a set of lake reeds with 3mm sized holes to Dr. Graham to test their effectiveness as nesting material this season. Dr. Graham is also scouting for Hylaeus anthracinus and other species of endangered yellow-faced bees in other habitats and on additional Hawaiian Islands. On the horizon, his future project plans include studying plant use by comparing pollen grains from nests to pollen from plants, screening sick nests for known honey bee pathogens, translocation of bees from strong populations to reseed protected suitable habitat, and investigating the success of 3D printed artificial nests.
Jason often visits schools and community groups to share what he is learning regarding endangered bee conservation.
In Hawaii, some things that the community can do to help protect the bees are:
Avoid burning or breaking coastal plants- these plants may be home to the endangered yellow-faced bees who nest in hollow stems and branches of coastal plants.
Plant natives such as Naupaka, Akulikuli, Akoko, Ohai, Naio, and Ilima which the bees depend on for nesting and/or forage resources.
Be careful not to spread ants. In Hawaii, all ants are introduced invasive species and are a serious problem for our native bees and other native wildlife.
Volunteer to help with the yellow-faced bee project. There are many opportunities to help through spreading education about the bees, to helping with online development, to field or lab work.
If you don't live in Hawaii, but would like to help bees in your backyard, Dr. Graham recommends learning as much as you can about the native bees in your area and studying their local ecology to try and figure out what kind of help they need. It may be different from area to area and from bee species to bee species. For instance, some bees may be limited by floral resources, others may be limited because of lack of nest availability, others may be overexposed to pesticides or pathogens, or any combination of these problems.
Learn more about the bees and their habitat so that you can be a well-informed steward. Then you can follow prescriptions such as planting native plants, providing nest habitats, setting out watering stations, etc. based on what you learn.
If you'd like to follow Dr. Graham's research, the following are a couple of his social media channels:
Yellow-faced Bees:
www.facebook.com/Hylaeus
Solitary Bee Nest Sites:
www.facebook.com/Nbnsproject
---
To stay up-to-date on bee-raising tips and reminders, events, pollinator research, and sustainability insights, sign up for our monthly BeeMail
 

newsletter and follow us on social media!