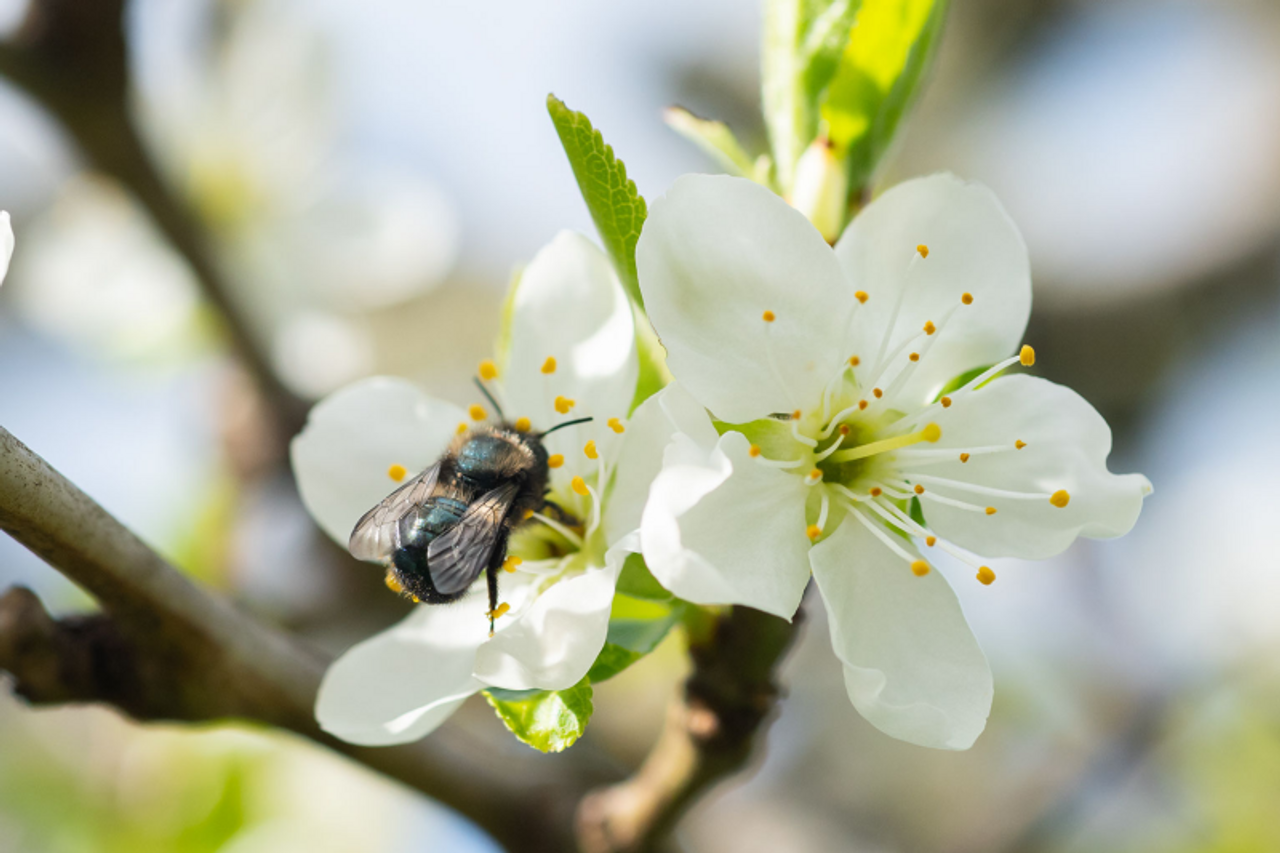 The solitary bee industry is taking off, which attracts companies with the sole purpose of making money. We helped start the industry back in 2008 and see both good and bad practices abound! Your success is honestly important to us, and we want to give you the tools to make informed decisions.
A growing industry, while popular, can often breed problems. Perhaps the biggest problem facing the solitary bee industry is the boom of uninformed people/companies selling bees and products. Did you know that certain bee rearing practices or a poorly designed bee house can wind up doing more harm than good?
In the short term, poor practices make for unhappy customers who receive:
Bees not acclimated to their region (which may not be able to pollinate efficiently or whose next generation isn't strong enough to survive winter hibernation)
Bees riddled with pests/diseases
In the long term, poor practices:
May result in a negative view of the solitary bee industry
Set back acceptance of solitary bees as farm and garden pollinators
Contribute to the increased spread of pests and disease.
Crown Bees is a small company and one of the trailblazers of the solitary bee industry. We take great pride in being a reputable bee producer that guarantees quality mason and leafcutter bees, customer support, and research-based resources. So, you can understand our concern with the influx of irresponsible bee companies.
So, why are Crown Bees' Bees the Best You Can Buy?
1. Our mason bees are certified by the Orchard Bee Association (OBA).
The OBA is team of independent businesses, farmers, and USDA-ARS Pollinating Insects Research Unit scientists. OBA's Sustainable Orchard Bee Certification Program aims to sustain managed orchard bee populations while conserving wild bee populations. There are strict requirements that need to be met in order to be OBA certified, which is why Crown Bees is 1 of only 4 certified vendors!
2. We practice loose-cocoon management.
The advantage of loose-cocoon management (rather than unopened nesting material) is that individual cocoons can be inspected and treated for parasites or diseases. When you buy or rent from a company that ships cocoons in unopened reeds or nesting blocks, you risk buying empty nesting materials or spreading pests and diseases like chalkbrood, Houdini flies, and pollen mites—not what you want in your garden!
The image above shows why you should always purchase loose-cell cocoons. 1) mostly empty reed, 2) reed filled with pollen mites, 3) moldy cocoons and pollen mites. Without opening materials, you can't be sure what is inside.
At Crown Bees, we individually inspect and clean every cocoon at our Woodinville location. Instead of bleach, which can damage cocoons if not used properly, we use our exclusive Clean Bee Solution to target the spread of the fungal pathogen Chalkbrood—the single most destructive disease of cavity-nesting bees. Any diseased or parasitized cocoons are appropriately disposed of to prevent the spread of these destructive pests.
3. We sort cocoons by region and send our customers the optimal male to female ratio.
We source and sort cocoons by region and then send our customers cocoons that originated from their location. This method gives the bees and their offspring the best chance of survival based on the local climate, and it also reduces the risk of spreading diseases or parasites that can be overlooked.
We overwinter cocoons in our industrial temperature-controlled cooler to help the bees maintain their energy stores. Beware of companies that ship cocoons any time of the year and request you store them in your refrigerator until spring. We have learned that temperature and humidity variations of personal refrigerators can result in bees either starving inside their cocoons, dehydrating, or emerging early. Your home refrigerator conditions aren't so much a problem when you harvest your own bees because you have control the entire time. For our DIY harvesters, don't worry. We'll help you learn what to do through our monthly BeeMail!
When you order from us, we prepare each box of mason bee cocoons to have the optimal male to female sex ratio for reproduction. 
4. We take a research-driven approach to bee-raising.
Unlike many mason bee sellers that have recently popped on the scene, we take a research-driven approach to bee-raising. We have ongoing partnerships with researchers, universities, nonprofits, and government agencies to stay informed on the current challenges facing our bees and bring together the best practices for solving those challenges.
Our recent work includes:
In partnership with the USDA, Crown Bees holds the patent license for InvitaBee™Plus+ Mason Bee Attractant. The attractant is used to encourage the nesting of all bees in the genus Osmia (about 350 species worldwide) and reduce the incidences of dispersal.
In partnership with Pollinator Partnership, we are working to boost membership in their

 

Bee Friendly Farming GARDEN

 

program. If you haven't already, check it out! We think you'll love it!
We are a member of the

 

US National Native Bee Monitoring RCN. This group of native bee biologists and organizations from across the U.S. are working to develop a much-needed national plan for native bee monitoring.
In partnership with The Bee Conservancy, we provided nesting materials for their

 

Sponsor-a-Hive

 

Native Bee Homes program. Each year they offer bee homes, support, and educational materials to schools, gardens, and other community groups to help foster local native bee resilience.
We are continuing to provide chalkbrood samples to Jessica Maccaro, a Ph.D. Student in McFrederick Lab. Her work is focused on chalkbrood diseases and how the pathogens cause disease in the host—bees. 
Left: A mason bee cadaver that died of chalkbrood disease, Right: Jessica Maccaro, Ph.D. Student in McFrederick Lab at UC Riverside.
5. We believe in the power of education and support our bee-raising community!
When you buy from us, you are not just a customer, but you become a member of our community! We doubt you'll get the same feeling from Amazon.
Whether you raise bees yourself, teach others, or simply want to improve the pollinator habitat in your yard or garden, we are always here to help!
If you haven't already, check out our FREE resources and unique programs to help you along the way!
Do you have a question about a product or want to talk to a member of the Crown Bees staff? Visit our

 

Help Center!
Our monthly

 

BeeMail

 

gives you timely advice what to do each month.
Are you a teacher (or know a teacher) looking to enhance their curriculum? Check out

 

Mason Bee Edu!
We hope this post was helpful! At the end of the day, we care about the health of bees and your success, so even if you don't purchase bees or supplies from us, we want you to know how to find reputable producers, vendors, and information so that you can receive healthy bees and create safe nesting habitats!
Good luck this season and happy pollinating!
~The Crown Bees Team