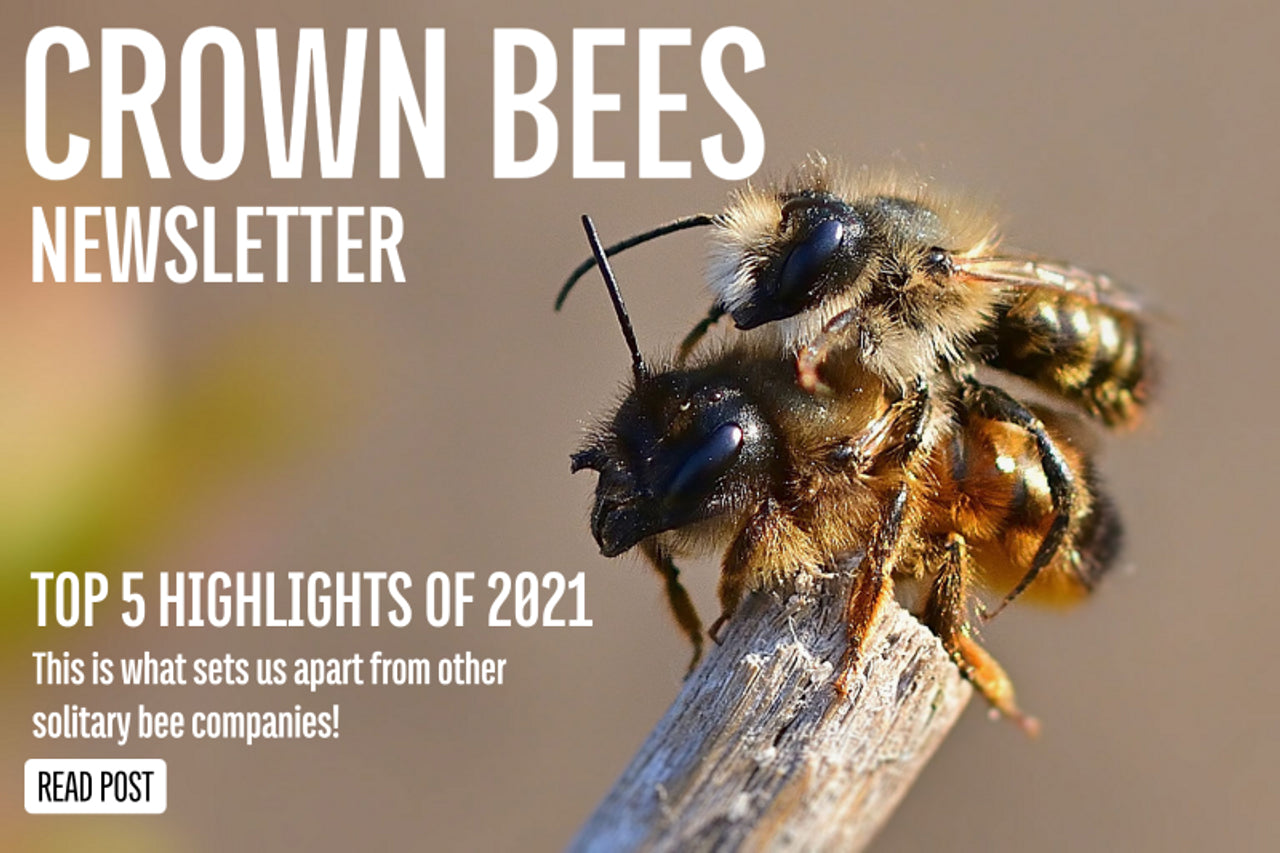 As winter settles in with the bees nestled safely in their nesting materials, we wanted to take this time to fill you in on our top 5 highlights from 2021!
1. Another Successful
 

Bee Buy Back

 

Season

A big THANK YOU to all of our Bee Farmers, Bee Buy Back Participants, and Harvesting Volunteers this season!

We've harvested, inspected for pests and disease, and cleaned over 300,000 mason bee cocoons from all across the country. That's enough to pollinate over 16,000 gardens in 2022! The bees are now overwintering in our temperature-controlled coolers, patiently awaiting spring.

Thanks to you, we can continue to provide healthy, region-specific mason bees to gardeners and farmers across the country. 
Volunteers on Vashon Island, WA. Harvesting mason bee cocoons from wood trays.
Volunteers on Vashon Island, WA. Inspecting cocoons for pests and diseases on a light table.
2. Design Challenge with Northwest College of Art & Design (NCAD)
In 2021, you installed 5,228 new bee houses for hardworking bee mothers across the U.S.
One of those bee houses, The Cabin, was designed by Anna Malakhova, a Northwest College of Art & Design student. Working with the students at NCAD was such a fun experience that we decided to do it again this year!
Earlier this month, Dave Hunter, Founder of Crown Bees, taught two classes of design students about cavity-nesting bees, bee-safe nesting materials, and key features to include in their designs. The students will submit their design proposals at the end of the semester, and we can't wait to see their creative bee habitat ideas!
Cabin Bee House. Winning design by Anna Malakhova (2019).
Dave Hunter introducing NCAD students to solitary bee house design project.
In the spring of 2021, we launched Mason Bee Edu. Mason Bee Edu is a resource for high school science educators who want to help their students better understand pollinator biology, the importance and role of solitary bees in food production and ecosystem services, and the need to conserve solitary, wild bees.
All the lessons are designed with adaptation and inclusivity in mind. The modules can be used by teachers with access to outdoor gardens and by teachers who must bring nature into the classroom through video or other nature-based classroom tools.
For those teachers who want to bring gentle, solitary bees into their classrooms, Crown Bees provides an educational discount on all our bee-raising supplies, including bees. Check it out here!
Cornell Entomology developed Mason Bee Edu in partnership with K-12 Master Teachers, Museum of the Earth, and Crown Bees. Earlier this month, authors of the program, Bryan Danforth and Mark Buckner, hosted a workshop for NYS Master Teachers at The Museum of the Earth. During the workshop, teachers worked through the modules and provided feedback on the program.
The feedback was overwhelmingly positive! Check out a few of the comments below, and make sure to share this fantastic resource with the educators in your life!
"I love this topic! The resources are great and easy to use!" -NYS Master Teacher
"There is so much breadth and depth in the list of activities! I can't wait to share with fellow teachers." -NYS Master Teacher
"It is definitely adaptable for different levels of students." -NYS Master Teacher
Mark Buckner helping a group of NYS Master Teachers during the Mason Bee Edu Workshop at The Museum of the Earth.
A group of NYS Master Teachers working through "Nesting and Mating" Mason Bee Edu Module.
4. Launch of our New Website
You talked. We listened. We updated.
For those of you who are first time visitors to our website, Welcome! And those who are return visitors, Welcome Back!
Our newly redesigned website is now easier to navigate, faster & more intuitive with a top-notch help center! We hope you can find everything you need to be successful in raising gentle, solitary bees on our website! But, if you still can't find the answers to your questions, don't hesitate to reach out via live chat or by filling out a help center support ticket!
New "Help Center" on Crown Bees Website.
5. Expansion and Redesign of our Warehouse to Optimize Efficiency
Crown Bees Tested. Sofie Approved.
We learned early on that a great warehouse does not happen just by chance for warehousing operations. As we grew, our catch-all retail + office + warehouse space slowly became cluttered and disorganized.
It became clear we needed more space to streamline our operations and get your bee-raising supplies to your door (and garden) ASAP. So, this year we're happy to announce that we've expanded and reorganized our warehouse! Our operations are now run more efficiently and get you started on your pollination journey faster!
New Crown Bees warehouse.