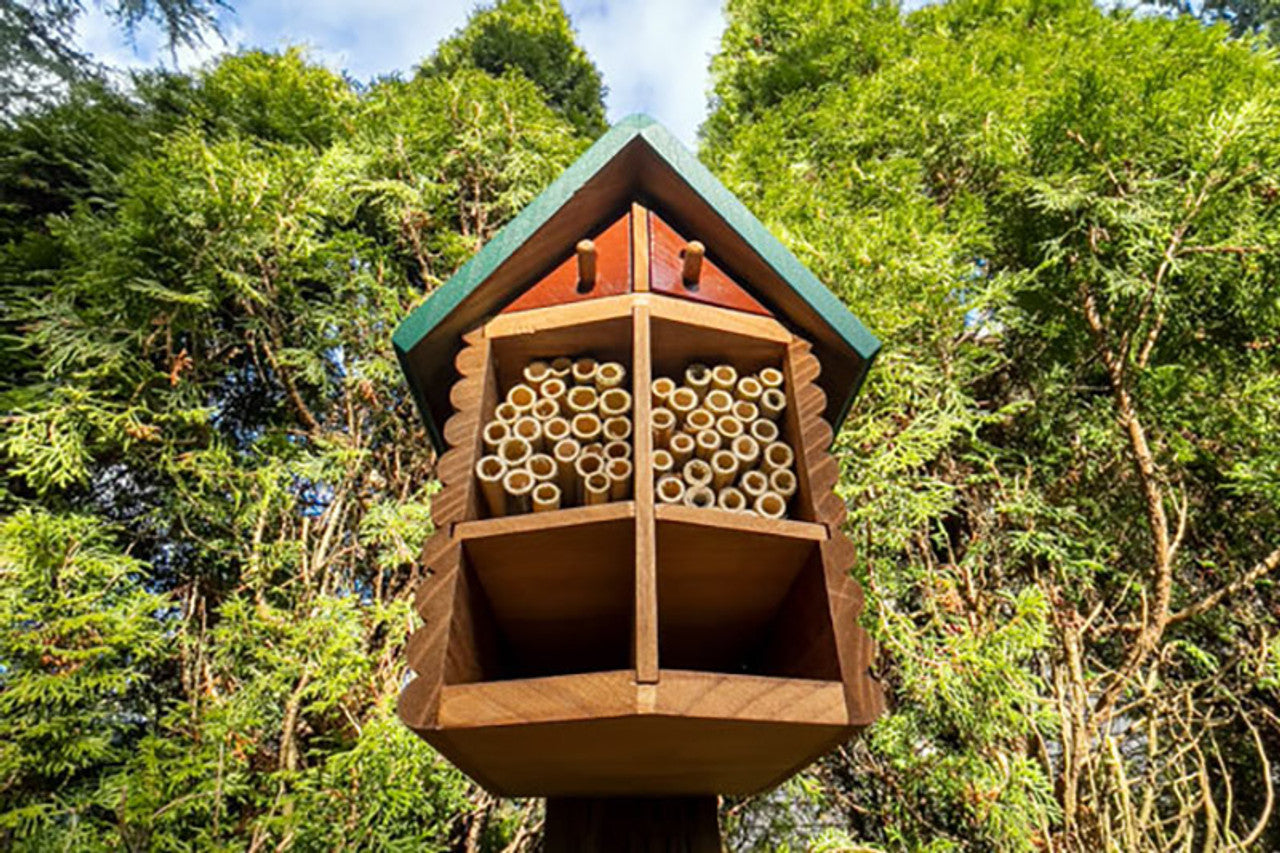 Super (Pollinator) Host
468 guests - 78 bedrooms - 78 beds - 0 baths
Entire home: Guests will have the Bee Cabin to themselves.
Enhanced Clean: Optional enhanced cleaning process with Clean Bee available.
Self-check-in: Check-in with easy access, dual cocoon hatcheries.
House rules: The Super (Pollinator) Host doesn't allow bamboo nesting materials or Houdini Flies.
About this space
The Bee Cabin is a private bee house nestled in your yard or garden. Offering unique architecture with optional mud box, romantic loft w/cocoon hatcheries, fully stocked garden, and off-street parking. The Bee Cabin's rustic eloquence inspires pollinator romance.
Cozy up and relax in the rustic cabin atmosphere that requires a very short flight across the yard to access. Treat yourself to a refreshing dip in the optional private mud box surrounded by blooming trees and bushes.
Enjoy all the amenities the Cabin has to offer:
Removable partitions to accommodate various nesting materials
A rooftop sitting area with occasional access to the neighbor's Wi-Fi
A deck overlooking the garden
Take a scenic flight to the backyard if you're craving an apple blossom, or stop at the neighbor's blueberry bush for a mid-morning snack. While there, pick up some pollen for the kids, and don't forget your free mud balls!
Sleeping arrangements
Bathrooms
Open air, outdoor bathrooms
Bedrooms
Trendy, circular-shaped rooms
Bring your favorite bedroom door, preferably mud or leaves
Optional InvitaBee attractant

 

add-on for those special occasions
Heating and cooling
Kitchen and dining
Rustic outdoor kitchen
Expansive space where guests can gather their own meals
Location features
Public entrance
South-east facing for morning sunshine
Outdoor
Patio or balcony
Garden or backyard
Getting around
Having wings is the most convenient way to get around the yard and garden. There are westerly gusts of wind during commuter hours that blow our guests toward the apple trees. You can also walk to the strawberry bushes if too tired to fly.
House rules
Self-check-in with hatchery lofts
Check-in: Minimum daytime temperatures of 55F/13C
Check-out: Late spring, early summer
Additional rules
Absolutely no fireworks or Houdini flies!
Additional guests and pollination events are welcome free of charge.
For safety reasons, young guests should be encouraged to sleep in the hatchery lofts or provided nesting materials, not in the mud tub.
---
To stay up-to-date on bee-raising tips and reminders, events, pollinator research, and sustainability insights, sign up for our monthly BeeMail
 

newsletter and follow us on social media!