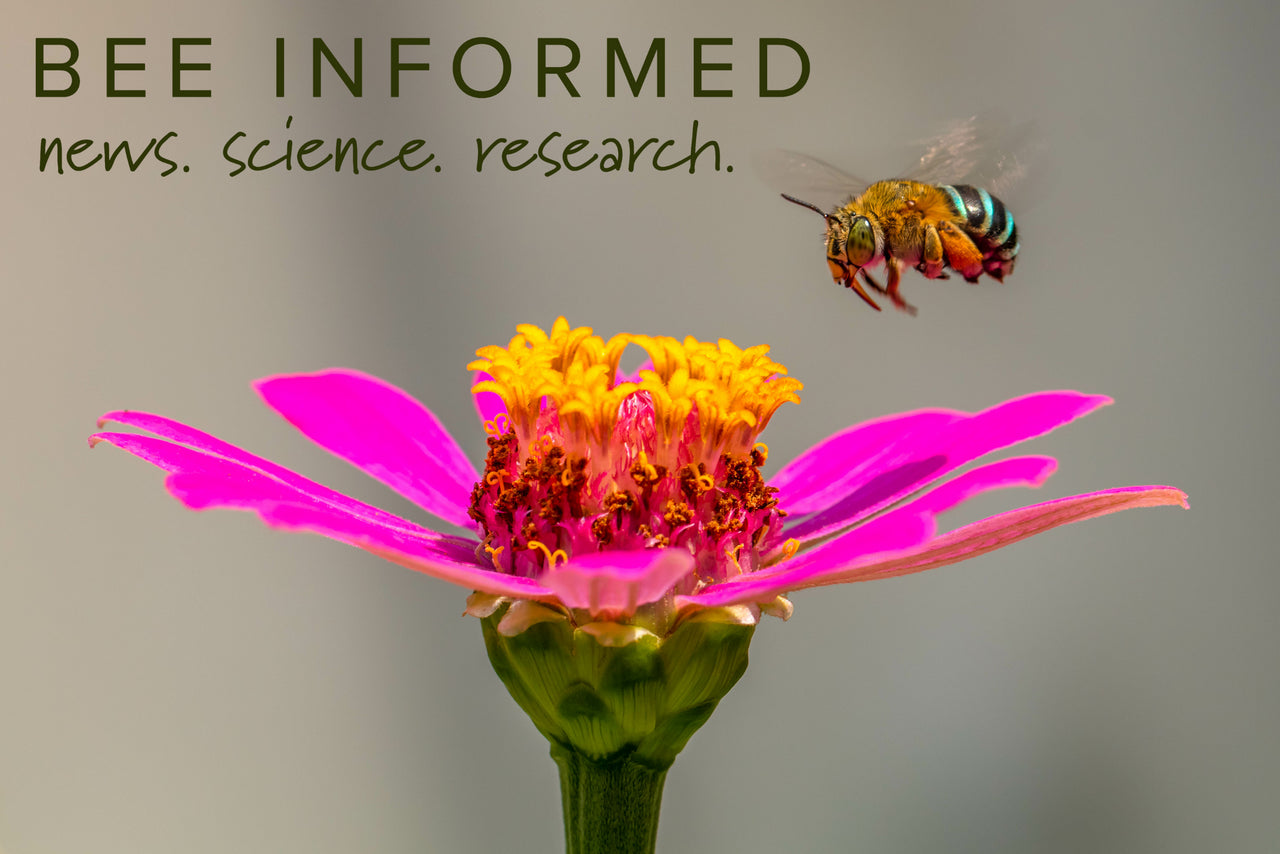 Each month our Bee Informed Blog highlights current news, science, and research related to solitary bee conservation, food insecurity, and sustainability.
(Entomology Today, By John P. Roche, Ph.D.) The mason bee Osmia taurus, a native of eastern Asia, was first discovered in the United States in 2002 in Maryland and West Virginia. Once here, its population increased rapidly, and it is now found from Florida to New Hampshire in the eastern U.S. The closely related non-native beeOsmia cornifrons was brought to the U.S. in 1978 to increase pollination in fruit orchards. But unlike Osmia taurus, populations of Osmia cornifrons remained stable and did not rapidly increase.
In a new review article published in February in Environmental Entomology, Grace Gutierrez, Margarita M. López-Uribe, Ph.D., and colleagues conducted a review of the current status ofOsmia taurus in the U.S., compared its colonization to that of Osmiacornifrons, and examined if Osmia taurus can be considered invasive. Continue reading...
By Benjamin Smith from United States - Mason Bee (Osmia taurus), CC BY 2.0, https://commons.wikimedia.org/w/index.php?curid=3...
(Wine Enthusitist, By Kathleen Willcox) The grapes we grow for wine don't technically need bees. In fact, the cultivated "common" grapevine, known as theVitis vinifera, is hermaphroditic, meaning it possesses flowers with functional pistils (which act as ovaries) and stamens (which produce pollen), allowing these vines to self-pollinate.
But, it may seem surprising that despite this, wine growers have long invested time and money into designing vineyards that attractbees. And as bee populations decline globally, vintners are working even harder to bring bees to their vineyards.
So, why are bees so vital to the vineyard, and what are winemakers doing to foster them? We break down everything you need to know. Continue reading...
(Worldrecordacademy.org) San Bernardino Valley, Arizona, United States--The United States-Mexico border traverses through large expanses of unspoiled land in North America, including a newly discovered worldwide hotspot of bee diversity; concentrated in 16 km2 of protected Chihuahuan Desert are more than 470 bee species, a remarkable 14% of the known United States bee fauna and a world record for the World's highest concentration of bee species, according to the WORLD RECORD ACADEMY.
This globally unmatched concentration of bee species is reported by Dr. Robert Minckley of the University of Rochester and William Radke of the United States Fish and Wildlife Service in the open-access, peer-reviewed Journal of Hymenoptera Research. Continue reading...
To stay up-to-date on bee-raising tips and reminders, events, pollinator research, and sustainability insights, sign up for our monthly BeeMail newsletter and follow us on social media!