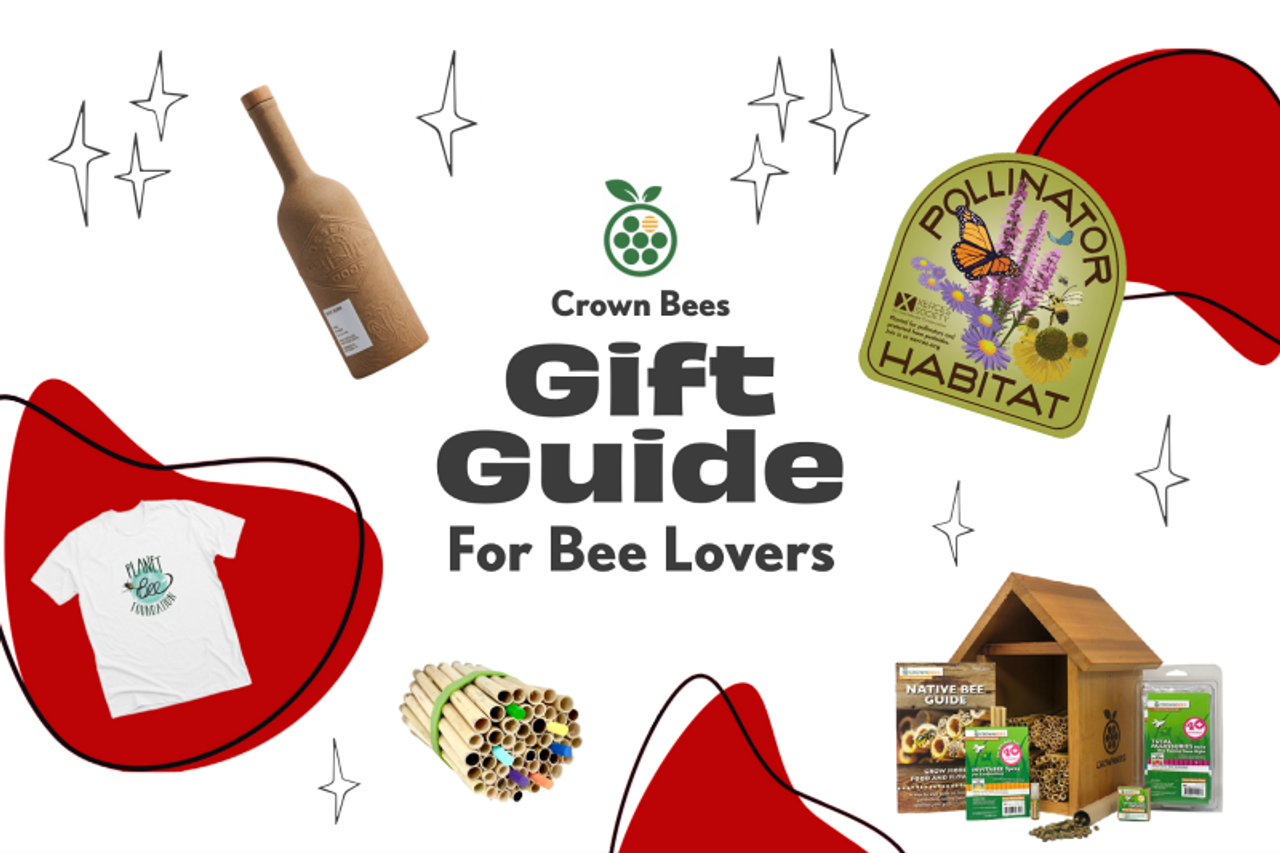 When giving earth-friendly gifts, it's important to think outside the box. Because let's face it—reusable water bottles, bags, and straws are fantastic, but your nature-loving friends and family probably already have this stuff.
You want to gift items that people will love, find useful, and that they can use for many years instead of stuff they'll tire of and quickly replace or discard. While that's always the goal with gift-giving, it's especially true with bee-friendly gifts. This year, show your loved ones how much you appreciate them by giving them a gift that supports the pollinators they, and we, love so much!
So, we've come up with a list of 10 unique gifts for the pollinator lovers in your life that'll create lasting memories and help support pollinator conservation, too.
Not all the gifts on this list are from us! You'll also find gifts from businesses and organizations whose values we support. We do not earn a commission if you purchase or donate outside Crown Bees. We just believe that knowledge and cooperation are powerful tools for protecting our fragile planet, and these gifts are sure to BEE a hit for the nature lovers in your life. 
---
*Sneak Peek — 20% Off Bee Station + Nesting Material Combo — November 1st - November 7th*
The perfect gift for new Beekeepers! Our Bee Station + Nesting Materials Customize your present for spring mason bees, summer leafcutter bees, or both. These kits are smaller in size and great for people who are just starting or don't have a ton of outdoor space. Handmade of Pacific Northwest Cedar, this house will provide safe nesting habitat for solitary bees for many years!
---
Pollinator Partnership works to protect the health of managed and native pollinators vital to our ecosystems and agriculture. Give a gift in honor of a loved one this holiday season, and you'll get a personalized Happy Holidays E-certificate. They will ensure your donation goes where it's needed most - helping to ensure the health and promotion of pollinators and their vital ecosystems. 
---
*Sneak Peek Sale — 20% off ALL Crown Bees Books and Merch — November 1st - November 7th*
Am I Even a Bee? is the story of Osmia, a solitary bee, decidedly green and unquestionably un-fuzzy. Osmia has always believed she is a bee, (her mom told her so), but recent run-ins with people, and even other insects, leave her wondering, "Am I even a bee?!"
Sunshine and Pollen — The Life of Mason Bees lets kids peek into the life of a mason bee. Full of beautiful and informational illustrations, it would also make a great coffee table book!
For the more seasoned reader, we also have a wonderful collection of adult books and identification guides that the bee lovers in your life are sure to love!
---
Check out the popular bee with flowers design or the adorable Tiny, Mighty, Necessary graphic from Planet Bee! Planet Bee is dedicated to creating a green-minded generation by spotlighting the struggling bee to foster environmental literacy and stewardship through the power of individual action. 100% of the proceeds support their educational programs. 
---
*Sneak Peek Sale — 20% Off Natural Reeds & Reed Splitter — November 22nd - November 28th*
Want a unique stocking stuffer? Natural Reeds are solitary bees' favorite nesting material! Reeds crack and split easily to quickly remove cocoons and fit in all Crown Bees Houses and most DIY houses. Reeds are a great gift for people who already raise bees!
Pair the reeds with our Reed Splitter; you've got a pollination-packed stocking!
---
The Desert Door Conservation Series was created to bring attention to those individuals and organizations who have taken remarkable action in forwarding conservationism.
This bottle, dubbed Pollinator, is the third in Desert Door's Conservation Series. For this year's project, they collaborated with the Xerces Society, the largest invertebrate conservation organization in the world and home to the largest pollinator conservation team of any nonprofit.
The latest Conservation release highlights one of the overlooked heroes of the earth's ecosystem — the humble bee.
Desert Door was kind enough to send us a bottle to taste, and all we can say is — YUM!
---
*Sneak Peek Sale — 20% Off DIY Upgrade Kits — November 15th - November 21st*
Our DIY Upgrade Kits include nesting materials, accessories, and bees. All you need is a house! Select from spring or summer kits that include either natural reeds or reusable wood trays. The perfect gift for someone who already has a house or is planning a DIY bee house project!
---
Your friends and family with beautiful pollinator-friendly yards and gardens will love these beautiful signs from the Xerces Society. They support conservation and spread the word about the importance of pollinators by displaying the sign in yards and gardens!
---
If you want to give the gift of pollination, but want your loved ones to be able to choose the house style, nesting materials, and bee ship dates that work best for them, then you can't go wrong with a Crown Bees Gift Certificate!
---
Monarchs may not buzz, but they are the poster child for pollinators. They are inspiring pollinators that engage people from all walks of life in conservation because of their charisma.
The Monarch Joint Venture is a nonprofit organization building a national partnership of federal and state agencies, other nonprofits, community groups, businesses, and academic programs working together to conserve monarch butterflies and other pollinators.
So, for the Monarch lovers in your life, BEE sure to check out the Monarch Joint Venture store! Your support of this fantastic organization will make a lasting impact!
---
To stay up-to-date on bee-raising tips and reminders, events, pollinator research, and sustainability insights, sign up for our monthly BeeMail newsletter and follow us on social media!